No matter, if you are building a new home or replacing the current flooring, the floors in your house are very essential to the ebb and flow of your home. If you do not like the look, feel and durability of new flooring, you will never be satisfied with it.  There are certain things to consider choosing each room's flooring. Check over here for a few quick tips to help you along the way.
Think of your family's lifestyle choosing your flooring materials and styles. Having a family pet or a toddler should be considered before giving your preference to a certain type of flooring.
Consider location.  You would not use the flooring that are not water-resistant for basement or bathroom installation.  Think what types of flooring would fit your area climate conditions most appropriately.
Cheaper options. Take into consideration where you can save your money.  Sturdier flooring should be installed in high-traffic areas to resist more frequent wear and tear. Laminate flooring is a good alternative option for bedrooms or a living area, but not for a bathroom or kitchen because it is not water-resistant.
Comfort level. If you have children and spend a lot of time in the kitchen, then you will want a more absorbent (of pressure, not liquids) surface to stand on for hours at a time.  Cork flooring is perfect for this particular purpose.
The best option. There is no ideal options for everyone and everywhere. It may seem that hardwood is the best investment due to its longevity, but it is not a budget-friendly option and often requires refinishing in high-traffic areas. The best place to install hardwood is only the living room.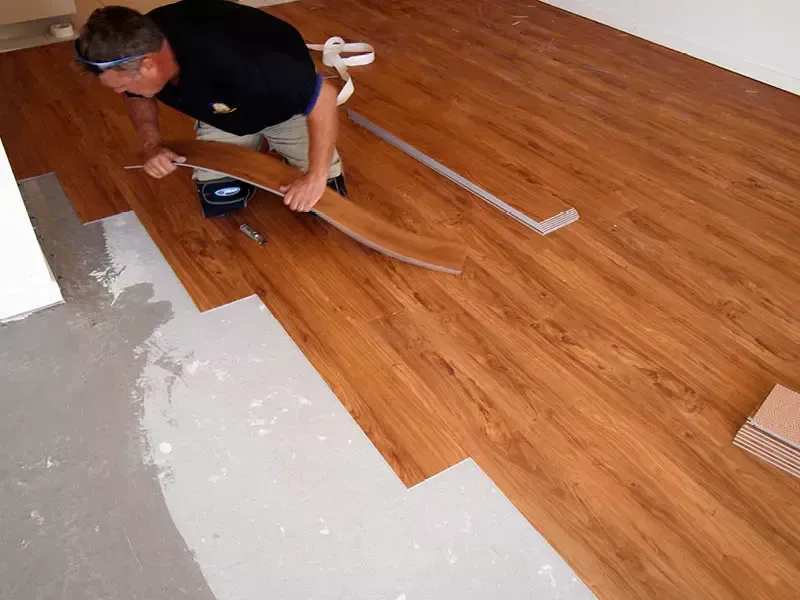 Quality is the first thing. Consider all your options before your flooring installation. While carpet and hardwood are typically the top choices for homeowners, there are several options out there to consider such as cork, tile, laminate, and vinyl. These can be more affordable than the other flooring styles, yet they may not last as long as wall-to-wall carpet or sturdy hardwood floors.
Be friends with the law. Make sure you have all the proper building licenses when you do any sort of renovation works to your home.  Install everything up to the legal codes and standards of the area in which you reside.  There are lawyers that specialize in construction laws and other relevant topics.